How to make clear soup shark fin better. Many people like to eat clear soup shark fin. But it doesn't seem to taste well. Let's take a look today.
How to Make Clear Soup Shark Fin
Step 1
Put the dried shark fins in a soup pan, add the water, put on a fire and cover the pan.Take it out and soak it after it's started with a small fire.After the shark fins swell, scrape off the sand of the epidermis and wash.Then put in the pan and add water and cover. After the fire is opened with a small fire, shut it down.After its bloating, scrape the black skin and wash it with water. Cover again and open it with a small fire.Fish the shark fins, remove the bones and carrion, rinse them several times with water, and then wrap the shark fins with a clean cloth.Fish out with boiling water waiting to use.
Step 2
Put shark fins, chicken nuggets, dried mussels in a soup bowl, add wine, onion, ginger flakes, fine salt and a moderate amount of water.After steaming soft, remove, and throw out the chicken oil, fish out the dried mussels to stay for use.
Put 750g chicken stock in a pan and put the pan on a fire to bring to a boil.The chicken meat is finely chopped, adds 150g of ginger water and stirs well.Pour into the soup pan, boil it, fish out the chicken meat and add MSG to the soup.Put the shark fin in the soup bowl and put the cooked chicken soup in the soup bowl.
Such delicious clear soup shark fin is complete.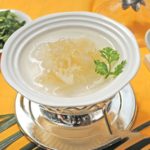 Print Recipe
Clear Soup Shark Fin
Equipment(affiliate link)