The fried pork in scoop is a northeast flavor dish, a Manchu delicacy. That is, marinate pork tenderloin slices to taste, wrap them in frying sauce and fry until golden, then stir fry and thicken. The vegetables are golden in color and sour in taste. From childhood, my daughter is fond of sour and sweet dishes!
Pork tenderloin contains high-quality protein, fat, vitamin and so on, which are necessary for human growth and development. Moreover, it is tender and easy to digest. In addition, heme and cysteine can improve iron deficiency anemia.It is good for our body.
How To Make The Fried Pork in Scoop–One of the Manchu Nationality Food
Step 1
Cut the pork tenderloin into 5 cm wide and 0.2 cm thick slices
Step 2
Put some cooking wine, salt and white pepper in the bowl and marinate for 15 minutes.
Step 3
Put potato starch in a bowl, add some water, mix well, and let stand for 30 minutes
Step 4
After 30 minutes, the potato starch precipitates and the surface water is poured out.
Step 5
Prepare shredded carrot, scallion and ginger.
Step 6
Pour the wet starch into the meat slices, and then grasp well.
Step 7
Prepare the sugar and vinegar juice: 1:1 sugar and rice vinegar, add a little bit of soy sauce and cooking wine and mix well.
Step 8
Start the oil pan, and when the oil temperature rises to 60% of the heat, put the meat slices one by one.
Step 9
Fry until golden brown, remove, and fry in batches
Step 10
Heat the oil pan to 80% heat, and then fry the meat until it is crispy.
Step 11
Remove the meat slices and drain the oil.
Step 12
Stir fry shredded ginger in another oil pan, then add shredded carrot and shredded onion and stir well.
Step 13
Pouring the sweet and sour juice which is mixed before.
Step 14
I also add some fresh lemon juice to make it thick.
Step 15
Pour the fried meat into it and stir fry it quickly. You can sprinkle some coriander leaves, but my daughter doesn't eat coriander
Step 16
Pot filling.
The fried pork in scoop is done now.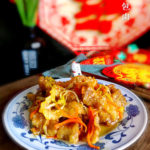 Print Recipe
The Fried Pork in Scoop--One of the Manchu Nationality Food
Equipment(affiliate link)
Ingredients(affiliate link)
Accessories
white pepper prowder

potato starch

raw soy sauce