Northeast one-pot steaming is famous dish for the Northeast. Northeasters often use it for meals.How to make the Northeast one-pot steaming. Many people like to eat the Northeast one-pot steaming.But it does n't seem easy to succeed. Let's take a look today.
How to Make Northeast One-pot Steaming
Step 1
Wash the eggplant. Peel small potatoes and cut pumpkin into pieces.
Step 2
Stir the eggs and place the shallots.
Step 3
Cut the bell pepper into small pieces and place in a bowl.
Step 4
Put in North Farmhouse Sauce.
Step 5
Add thirteen incense and sesame oil and mix well.
Step 6
Put in steamer.
Step 7
Rinse sesame sauce with warm water.
Step 8
Mashed garlic and shrimp skins with some salt.
Step 9
Put in the prepared sesame sauce.
Step 10
Add some soy sauce, sesame oil and MSG.
Step 11
Steam for about 15 minutes.
Step 12
And put it in the plate.
Such delicious Northeast one-pot steaming is complete.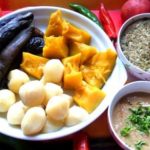 Print Recipe
Northeast One-pot Steaming
Ingredients(affiliate link)
5

eggplant

300

g

diced potato (dehydrated)

300

g

pumpkin
condiment
10

g

sesame paste

10

g

facing heaven pepper

5

g

shrimp skin

3

g

thirteen incense