For most people nothing makes the thanksgiving celebration more homely than having a authentic Chinese pepper steak recipe to make the perfect lunch or dinner. Thanksgiving is a celebration lasting between a day and several weeks depending on the culture celebrating it. The celebrations usually follow a good harvest; if that is not a good reason enough to try a new steak recipe, then what is? And like any other good party, people prepare tons of food to commemorate the festival. This is where this Chinese recipe comes in.
An authentic Chinese pepper steak recipe, like most Chinese dishes, has a lot to offer. For starters, the meal is very easy to prepare. It has only two ingredients, which you can easily find no matter where you come from. All you need is beefsteak and bell peppers to make this delicious dish.
Health Benefits of Chinese Pepper Steak Recipe
I understand that with the rise of illnesses perpetuated by our diet, you have to be careful about what you eat. This authentic Chinese pepper steak recipe has many health benefits to offer you and your family. You will require a minimal amount of oil to prepare this delicacy because it is a stir-fry dish. The reduced amount of oil means you will limit the amount of cholesterol consumed.
Furthermore, the dish originally contains proteins and vegetables therefore limiting the calorie intake. Peppers contain high levels of Vitamin. Vitamin is vital for the human immune system. It also helps with wound healing and strengthening the skin. Therefore trying out this authentic Chinese steak pepper recipe may just be the trick for you.
How Do I Cook Chinese Pepper Steak?
An authentic Chinese pepper steak recipe is a stir-fried meal. This means very little oil use as opposed to deep-frying. However, with time and experimentation, people opted for different cooking techniques. With these innovations came crockpot pepper steak and oven pepper steak. In this post, we will focus on stir-fried Chinese pepper steak, as it is the authentic way of making it.Here is a list of all the items and ingredients you will need:
Equipment
1. Wok or skillet
2. Knife
3. Tea and table spoons
4. Ziploc bag
Ingredients
1. Beef steak
2. Peppers
3. Onions (white or green)
4. Tomatoes
5. Cooking oil
For The Marinade
1. Cornstarch
2. Ground ginger
3. Soy sauce
4. Sugar
Preparation
Before we continue, I should point out that some people like adding a sauce to the dish at the last stages of cooking. This makes the results a somewhat wet-fry delicacy. It is still as delicious. However, since we are trying to stay as close as the authentic Chinese pepper steak recipe, we will skip that part.
Beef Preparations For Chinese Pepper Steak 
The beefsteak if the centre piece of this finger licking Chinese dish. You will need to cut the steak into very thin slices of about 2 inches of length. Do not cube or chunk the cuts. You need the meat in strips so that they can properly cook. Cutting them in thick chunks often results to internally undercooked meat. To get the strips as thin as possible, cut the meat while slightly frozen. It will be firmer thus easier to make the thin cuts. Once you have the amount of beef you want cooked rightly cooked, let them come to room temperature before marinating.
Marinade Preparation
This authentic Chinese pepper steak recipe, like most Chinese dishes, requires a marinade. We shall use a very simple one for this dish. Just take 2 tablespoons each of cornstarch and sugar and place them in a bowl. Mix the two to make them uniform. Add a ½ tablespoon of ground ginger and mix well until uniform. Now add a ¼ cup of soy sauce to the mixture and mix them very well. Make sure to get rid of any lumps that may form. Also, make sure all the sugar dissolves and set aside.
Why Do You Have to Marinate the Meat?
Marinating meat has both physical and health benefits. The most common reason for marinating is to add to the meat flavor by infusing in spices. Some health benefits include reduction in growth and occurrences of meat bacteria. Marinating the meat allows it to stay fresh for longer than non-marinated meat.
Marinating Process
This step is easy and straightforward. Have the marinade in a slightly wide and hollow container such as a bowl. Now place the beef strips one by one into the marinade and out into the ziploc bag. You can always use tupperware or other containers. However, the ziploc bag is the best alternative. It locks in the marinade without space for dripping. It is also cheap and easily available. Place the bag or bags into the fridge for up to 30 minutes for the best results.
Cooking the Pepper Steak
After the thirty minutes, take out the beefsteak from the ziploc bag and place them on a flat surface without layering. Light your stove and place your wok or skillet. You want your wok to be deep enough to hold all the meat and vegetables with extra room for stirring. If it is smaller, then consider dividing your ingredients into two or three equal parts.
Put in two tablespoons of cooking oil into the wok and let it heat for about two minutes. Flavourless cooking oil is the best because it does not mask the flavours nor tastes of the ingredients. Avoid coconut or olive oils for the same reason.
After the two minutes, gently place the beefsteak strips one by one into the heated oil. Make sure you do not layer them so that they can cook best. Let the meat cook for about two minutes per side. Once the meat is almost cooked, remove the strips and put them aside.
Add a tablespoon of oil into the wok and heat for two more minutes. Once it is hot, add in your chopped onions. You can use ringed or cubed white or red onions or diagonally cut green onions. This all depends on your preferences. Once the onions soften, add in your precooked beef and stir for about one minute making sure to mix the ingredients. Add your chopped bell peppers and continue stirring. Cook these until soft.
Finally, add your tomatoes and stir for about two minutes. Turn off your stove and transfer your meal into a serving dish. Serve while hot with the rest of your thanksgiving buffet and enjoy!
Cook's Additional Notes on Chinese Pepper Steak
As already mentioned, this recipe has two main ingredients. However, that should not stop you from adding a personal touch to the meal. That is how to come up with the best recipes after all! Some of the common additions made to this authentic Chinese pepper steak recipe include mushrooms, chilli peppers, tomatoes and vegetables of choice.
Finishing
Although it is a full meal by itself, some people prefer pairing it with another type of food. Popular accompaniments for this authentic Chinese pepper steak recipe include rice, potatoes, nachos, noodles and pasta. Some people even take the stir-fried dish and use it as a stuffing with whole bell peppers. Whichever way you choose to eat it, the meal remains delicious and surprisingly filling.
Final Thought
This authentic Chinese pepper steak recipe takes about an hour or preparation inclusive of marinating time. However, the net cooking time alone is between 20 and 25 minutes.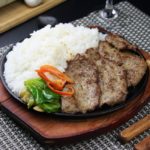 Print Recipe
The Best Authentic Chinese Pepper Steak Recipe
Equipment(affiliate link)
Ingredients(affiliate link)
Instructions
Beef preparations for Chinese pepper steak
Video