The beef tendon ball,a famous Chaoshan snack, has a history of nearly 100 years in Shantou. Beef balls can be divided into beef balls and beef gluten balls. The beef gluten pill is made by adding some tender tendons into the beef, which is super elastic and a bit chewy.
How To Make The Shantou Beef Tendon Ball Flat Rice Noodles with Soup
Step 1
Prepare some Shantou beef tendon balls.
Step 2
Wash the flat rice noodles under the running water.
Step 3
Add boiled water to the rice noodles, cook soft and dish for later use.
Step 4
Add some water to the pot, add ginger slices and beef tendon balls to boil,
Step 5
Add in the vegetables and cook. When the beef tendon ball floats, turn off the heat. Add some salt to taste.
Step 6
Pour the cooked beef tendon ball soup into the flat rice noodles.
Step 7
Add some chopped onion and pepper powder,the Shantou beef ball flat rice noodles with soup is done.It is suitable for breakfast.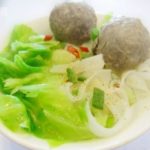 Print Recipe
The Shantou Beef Tendon Ball Flat Rice Noodles with Soup
Equipment(affiliate link)
Ingredients(affiliate link)
150

g

flat rice noodles

100

g

Shantou beef tendon ball