The cute and delicious pineapple jelly is a delicious traditional food. The main ingredient is pineapple, and the auxiliary ingredient is agar.
At the same time, the sugar, salt and enzyme contained in pineapple have diuretic effect, so nephritis and hypertension patients should eat. Some people will be allergic to pineapple. Within 15-60 minutes after eating, they will have abdominal pain, vomiting, diarrhea, dizziness, flushing of skin, itching of the whole body, numbness of limbs, mouth and tongue, and even breathing difficulties or even shock. This is pineapple disease. Because pineapple contains biological glycosides and bromelain which cause allergy to human body, in order to avoid this situation, it is better to cut pineapple into pieces and soak it in salt water or soda water for 20 minutes before eating. Pineapple is suitable for eating in summer. It can relieve summer heat, thirst and diarrhea. Pineapple can make skin smooth and moist.
How To Make The Cute and Delicious Pineapple Jelly
Step 1
Squeeze pineapple for later use;
Step 2
Soak agar in warm water for 2 hours, put it into the pot, add water and boil it in a small fire, then add pineapple juice, and mix with sugar;
Step 3
Cut the pineapple into small pieces, put it into several small bowls together with the uncooked agar mixture, and put it into the refrigerator to freeze;
Step 4
When you want to eat it, take out the pineapple jelly and put it into the dish.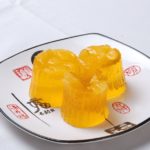 Print Recipe
The Cute and Delicious Pineapple Jelly
Equipment(affiliate link)
Ingredients(affiliate link)