The spring rolls with black fungus and lean meat is a delicious and unique dish.
Pork is rich in high quality protein and essential fatty acids, and provides heme (organic iron) and cysteine to promote iron absorption, which can improve iron deficiency anemia.
How To Make The Spring Rolls with Black Fungus and Lean Meat
Step 1
Soak the black fungus, wash it, chop it to pieces;
Step 2
The lean meat is also minced into meat puree, and the black fungus is added into it;
Step 3
Add sesame oil, salt, soy sauce, less sugar, flour, ginger and garlic, and scallion, stir well;
Step 4
Spread the spring roll skin and put the meat stuffing a little lower;
Step 5
As shown in the picture, fold up the lower corner to cover the meat filling;
Step 6
Fold the left and right sides to the middle, as shown in the figure; then dip the top corner a little, fold down to form;
Step 7
By analogy, wrap the spring roll;
Step 8
Heat some oil in the pot, fry the spring rolls in half fry until they are cooked!Be careful when turning over the spring rolls with black fungus and lean meat.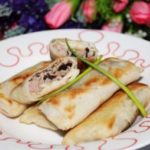 Print Recipe
The Spring Rolls with Black Fungus and Lean Meat
Equipment(affiliate link)
Ingredients(affiliate link)
Accessories
Yuanzhen sugar

raw starch