The fake shark's fin soup is common in Hong Kong. Its material is mainly fans. Cook the soup with starch until it thickens, add old and raw soy sauce to make it brown, and add sesame oil, Zhejiang vinegar, white pepper, chili oil, etc.
How To Make The Fake Shark's Fin Soup–One Of The Most Famous Hong Kong Street Snacks
Step 1
Stir fry shallots and red shallots in hot oil.
Step 2
Prepare wine and boiled water.
Step 3
Cover and cook for 3 minutes. Remove the ginger.
Step 4
Add filamentous mushroom, Filamentous agaric, Filamentous chicken and vermicelli.
Step 5
Cook for 5 minutes and add in the soy sauce.
Step 6
Add salt and pepper powder.
Step 7
Add cornstarch water to thicken the sauce.
Step 8
Pour in the egg liquid and add some vinegar.
OK,the fake shark's fin soup is done,come and try it now.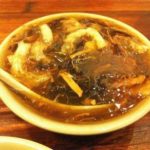 Print Recipe
The Fake Shark's Fin Soup
Ingredients(affiliate link)
Wax gourd

edible fungu

Silk noodles

Shredded chicken