The spicy cold eating rabbit meat is a delicious food, the main material is rabbit meat.The taste of this dish is the flavor of Zigong, hot to have inside information, bright personality.
How To Make The Spicy Cold Eating Rabbit Meat
Step 1
Wash rabbit meat and cut it into small pieces.
Step 2
Add the chopped ginger, garlic and salt to the chopped rabbit
Step 3
Add the right amount of light soy sauce, cooking wine.
Step 4
Mix well. Set aside for twenty minutes.
Step 5
Prepare Sichuan peppercorns, cut them into sections and set aside.
Step 6
Heat the pan and add more oil than usual.
Step 7
Heat the oil temperature to about 70 degrees and turn to medium heat. Put the rabbit meat into the pot and keep frying it, so as not to fry it in the pan.
Step 8
Stir-fry until water is dry and turn to low heat. Add chilli and sichuan peppercorns. Continue to fry for 5 minutes.
Step 9
Stir fry well. It tastes better when it's cold.
Step 10
Pour the oil from the pan into the small bowl.
This oil can be used next time Fried spicy cabbage, spicy lotus root slice, spicy pieces of fish and so on. But don't cook it over and over again.
Step 11
It can also be done more at a time, or it can be vacuumed and taken out to play. Our home does not have this machine, this spicy cold eating rabbit meat is the friend to make to send me to taste.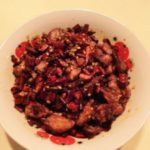 Print Recipe
The Spicy Cold Eating Rabbit Meat
Ingredients(affiliate link)
 Accessories
Chinese prickly ash

Blend oil