The delicious and attractive Yongzhou blood duck is a traditional local dish in Yongzhou, Hunan Province. Yongzhou blood duck is divided into many kinds, including Jiangyong, Daoxian, Xintian, Ningyuan, Lanshan, Dong'an, Shuangpai and so on. In the local area, almost every family can make this dish. It has the characteristics of delicious, appetizing and cooling blood.
How To Make The Delicious and Attractive Yongzhou Blood Duck
Step 1
Kill the duck, wash it for later use, and put the duck blood on the plate.If you don't want to or you don't know how to do with the lively duck,you can buy the frozen duck in the supermarket.
Step 2
Wash the duck meat and chop it into lumps. Dry the duck and put it in the plate.
Step 3
Heat up the oil pan and stir fry one-third of the ginger slices to give the fragrance. Stir fry duck meat until cooked. Add a little cooking wine to taste during the frying process.
Stir fry for a while, then put in anise and cinnamon, stir well over high heat
Pour in a proper amount of beer, turn it into a small heat and simmer for half an hour, then put in red and green pepper and stir fry.
Step 4
Add some salt, soy sauce, stir fry chicken essence to taste. Sprinkle the prepared duck blood mixture evenly in the pot, stir fry quickly while pouring, turn all materials into brown black, and then turn off the fire quickly.
Let's try the delicious and attractive Yongzhou blood duck.Please enjoy yourself.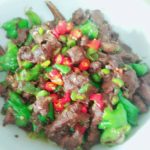 Print Recipe
The Delicious and Attractive Yongzhou Blood Duck
Equipment(affiliate link)
Ingredients(affiliate link)