Jiaxing fresh meat zongzi is a kind of snack of Zhejiang province which makes use of boiling, boiling, steeping and steeping method, and has the functions of nourishing blood, nourishing energy and strengthening the body. The ingredients are simple, mainly white wine, red soy sauce, sugar, refined salt, rice dumplings, water plants and MSG. The meat should be cut into pieces 6cm long, 3cm wide and 1.6cm thick. Rice dumplings into the boiling water pot to use a stir fry, boil to add a few times the water, so that the water did not over rice dumplings, so as not to be uncooked.
How To Make The Soft And Glutinous Jiaxing Zongzi
Step 1
Wash 20 salted duck eggs, crack them all and collect the egg whites into a large container for another purpose. Cut the yolk in half.
Step 2
The pork belly 1 kg cut pieces, with light soy sauce 3 teaspoons, a little salt, sugar 1/2 teaspoon, chicken essence 1/2 teaspoon, cooking wine 2 teaspoons, peanut oil 1 teaspoon, black sesame 1 teaspoon catch evenly marinate 3-4 hours.
Step 3
Take a large piece of Jinhua ham steamed, boneless, ham meat cut into cubes, add 50 grams of rock sugar on the steamer steam for 20 minutes. Remove and let cool.
Step 4
Cut the raw chestnuts into a knife and boil them in the boiling water for 15 minutes. Soak them in cold water and peel off the shell for later use.
Step 5
Dry zongzi leaves need to be soaked overnight.
Step 6
Soak 5 kilograms of glutinous rice in water for a long time, pour out the water after washing rice, drain the water. Put glutinous rice into a large container, add 2-3 teaspoons of soda ash, 1 teaspoon of salt, 1 teaspoon of sugar, 1 teaspoon of chicken essence, 2 teaspoons of peanut oil and mix well.
Step 7
Begin to pack zongzi, first take two pieces of rice dumplings staggered overlay, fold from the middle, to make a bucket.
Step 8
Spoon in half of the glutinous rice and put in the yolk of a salted duck egg, a piece of pork belly or ham, or a piece of chestnut. Feel free to mix and match. Varieties are: ham egg yolk dumplings, chestnut dumplings, egg yolk dumplings, red beans jujube brown and so on.
Step 9
Then ladle in some glutinous rice, about eight or nine times full.
Step 10
Fold the leaves over the sticky rice
Step 11
Fold the corners down, wrap the sticky rice, and fold in one direction.
Step 12
Finally, the tip of the leaves will also fold good, with the left hand firmly hold.
Step 13
Right hand with cotton yarn or palm leaves tied tight, triangular dumplings are ready.
Step 14
Place the zongzi in a large pressure cooker.
Step 15
Pour in boiling water, boiling water to cover the zongzi
Step 16
Cover pressure cooker lid and air valve, open the fire to valve out of the atmosphere, from the "miles before," sound, keep the atmosphere for 15 minutes, turn a small fire 3-4 minutes to turn off the heat, and simmer 10 to 20 minutes until the valve pull no gas, and then opened the lid.
Step 17
Aroma four overflow of meat zongzi out of the pot,it is too sweet!
Step 18
Remove boiled rice zongzi, put in a plastic basket to drain the soup, then put into the plate.
Step 19
Open to eat! Zongzi with Jinhua ham is so sweet oh.
Step 20
Preserved egg yolk pork zongzi,it is really delicious!
Step 21
Insert a pair of chopsticks to stutter directly, also can dip in some brown sugar powder, the taste of hometown on the tip of the tongue, you mouth-watering ah!
Step 22
This is absolutely authentic Jiangnan practice, taste comparable to Jiaxing Wufangzhai! This is Lao wang's family craft!
Let us share the Jiaxing zongzi with your family!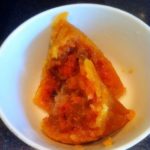 Print Recipe
The Soft And Glutinous Jiaxing Zongzi
Equipment(affiliate link)
chopsticks

pressure cooker
Ingredients(affiliate link)
5

kg

Glutinous rice

800

g

The streaky

500

g

Fresh chestnuts

300

g

Jinhua ham
 Accessories