The stewed duck kidney with apple and tremella soup is a traditional specialty of Guangdong Province and belongs to Cantonese cuisine. Xueer duck kidney soup is mainly made of duck, and cooking is mainly cooking. If you eat too much, too greasy, gastrointestinal discomfort, you can cook this soup to drink, it also has the effect of nourishing blood, moistening lung, eliminating phlegm and relieving cough.
How To Make The Stewed Duck kidney with Apple and Tremella Soup
Step 1
Prepare ingredients, wash and clean the duck kidney and pork
Step 2
Soak the tremella, apricot and jujube.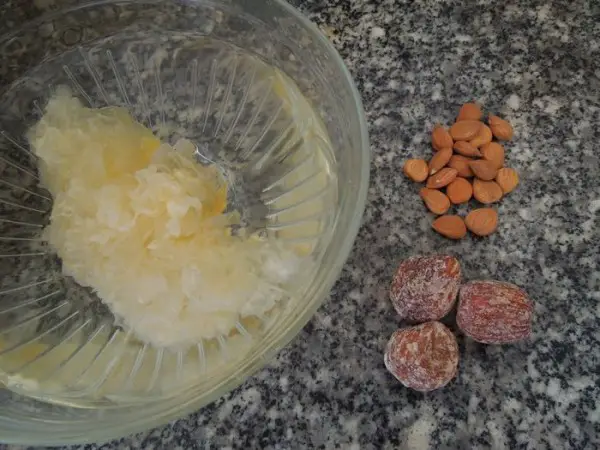 Step 3
Prepare an apple and peel it.
Step 4
Then,Prepare ginger, peel it.
Step 5
Cut the duck kidney and pork.
Step 6
Cut the apple and ginger too.
Step 7
Put all the ingredients into the earthen jar.
Step 8
Fill the stainless steel pot with water to a quarter of the earthen jar.
Step 9
Add enough cold water in the earthen jar at one time.
Step 10
After stewing for two hours, turn off the heat and add some salt.
Print Recipe
The Stewed Duck kidney with Apple and Tremella Soup
Equipment(affiliate link)
 the stainless steel pot

 the earthen jar