Sweet corn flapjack is a famous dish for the Northeast. Northeasters often use it for meals.How to make the sweet corn flapjack. Many people like to eat the sweet corn flapjack.But it does n't seem easy to succeed. Let's take a look today.
How to Make Sweet Corn Flapjack
Step 1
Scoop corn kernels and rinse with water. Drain the water and place in a bowl; add 10 grams of condensed milk and mix well.
Step 2
Then add raw flour and glutinous rice flour and mix well (the ratio of raw flour to glutinous rice flour is 3: 1). The amount of raw flour, glutinous rice flour, and water depends on the ingredients you need. If it is canned corn, it needs more raw flour and glutinous rice flour because it is wet.And the water can not be put. The principle is to knead the corn kernels and flour together;
Step 3
Add the right amount of oil to the pan. First heat about 70% to 80%, then pour it out and put it in a heat-resistant bowl.
Step 4
Leave a little oil in the pan and turn to low heat. Put the mixed corn paste in a pan and press flat with a spoon. We must push the corn paste away. After pressing flat, you can see that the corn kernels can stick together, you can put in the oil that has been heated to 70% to 80% just now. If the oil is not enough, you can add a few spoonfuls of oil.
Step 5
Turn to medium heat and continue heating. Under the condition of not being confused, you can use high fire as much as possible, which can help rapidly setting. Do not use a low fire at this time, the low fire is easy to make corn tortillas slow to shape and disperse. It's also easy to get more oil into the corn. Fry for about 5-6 minutes until the corn is golden and ripe. That is ok.
Such delicious sweet corn flapjack is complete.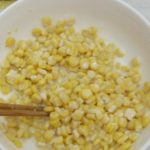 Print Recipe
Scoop corn kernels and rinse with water.
Equipment(affiliate link)
Ingredients(affiliate link)