How to make steamed crab better. Many people like to eat steamed crab. But it doesn't seem to taste well. Let's take a look today.
How to Make Steamed Crab
Step 1
Wash the shallots and cut into segments; the ginger is peeled and washed, sliced in half, and cut in half into pieces.
Step 2
The crab removes the internal organs and is washed. Add the steaming pan and add the onion, ginger slices and spoils. Remove after about 12 minutes of steaming in a steamer. Remove onions and ginger. The crab is cut into pieces. Put it in the pan.
Step 3
Add the ginger in a small bowl and add the red vinegar to the mix. Eat with crab cubes.
Such delicious steamed crab is complete.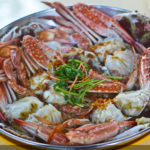 Print Recipe
Steamed Crab
Equipment(affiliate link)
the steaming pan

 a small bowl