White cut pig feet belong to the Guangxi cuisine. Main raw material is pig feet.So how to make white cut pig feet? Let me introduce it to everyone.
How to Make White Cut Pig Feet
Step 1
Material: a pig's foot, preferably the front foot (I want to eat meat, so only use this part of the round hoof, like the bone of friends can kill all)
Step 2
Wash with water and remove the large bone in the middle.
Step 3
Add water to the pan, put the round hooves in and cook.
Step 4
Cook on a slow heat. Don't need to be too cooked, too rotten to eat. Cook the pig's feet with a cold water and put them in the fridge for a bell.
Step 5
Once the pig's feet are cooked, the next step is the production of the ingredients. Cut the ginger into silk.
Step 6
Add the sugar and rice vinegar and soak in the sour ginger, about half an hour.
Step 7
Garlic, onions and lemons are cut into grains.
Step 8
Add oil to the pan, fry the garlic and shallots, add lemon, sour ginger, soy sauce, cooking wine, salt, and friends who like spicy food add some chili oil.
Step 9
Take the pig's feet out of the refrigerator and slice (thinly as thin as possible) the white cut pig's feet.
Such delicious white cut pig feet is complete.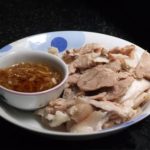 Print Recipe
White Cut Pig Feet
Equipment(affiliate link)