Spicy shrimp is famous dish for the Northeast. Northeasters often use it for meals.How to make the spicy shrimp. Many people like to eat the spicy shrimp.But it does n't seem easy to succeed. Let's take a look today.
How to Make Spicy Shrimp
Step 1
Wash the shrimp first. Cut the shrimp whisk and shrimp gun with scissors, cut the shrimp back and remove the shrimp line (cut the shrimp back with a knife to remove the shrimp line).After processing the shrimp thread, marinate for a while with cooking wine and a small amount of salt.
PS: Today, for the sake of beauty, they have all been preserved.
Step 2
Prepare 20 grams of dried pepper, 10 grams of shredded ginger, 20 grams of chives, and 20 grams of coriander. Then cut into shreds for future use.
Step 3
Add dried chili peppers and stir well.
Step 4
Put ginger and 10 grams of spring onion together and put them in a pot. When the flavor is fried, pour in the shrimp and fry.
Step 5
It's so cool to watch the shrimp slowly turn red because it's so fragrant.As for how much shrimp should be fried?
Step 6
Fry the shrimp with home fire for about 3-5 minutes. It's delicious and spicy!
Step 7
Some people like to eat crispy shells, and some people like to eat tender meat. I like the middle state. Just look at the heat and you can put it on the plate.Add the remaining 10 grams of chives and coriander and stir fry before you finish.
Such delicious spicy shrimp is complete.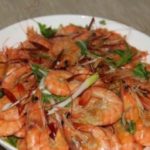 Print Recipe
Spicy Shrimp
Equipment(affiliate link)
Ingredients(affiliate link)