Minced meat noodle is famous dish for the Northeast. Northeasters often use it for meals.How to make the minced meat noodle. Many people like to eat the minced meat noodle.But it does n't seem easy to succeed. Let's take a look today.
How to Make Minced Meat Noodle
Step 1
Prepare lean meat and cut into minced meat for future use.
Step 2
Prepare cucumber shreds, shallots and garlic for spare.
Step 3
Prepare a bag of sweet noodle sauce.
Step 4
When the water in the pot is boiling, add the noodles.
Step 5
After the noodles are cooked, rinse them with cold water. Then control the moisture for backup.
Step 6
Add oil to the pot.
Step 7
Add meat foam when oil temperature becomes high.
Step 8
Add shallots and stir fry.
Step 9
Add pepper powder.
Step 10
Add sweet noodle sauce.
Step 11
Stir-fry evenly, add the right amount of water, and cook for about 5 minutes.
Step 12
Place the noodles in a plate and pour in marinade, sprinkle with cucumber and garlic.
Such delicious minced meat noodle is complete.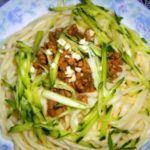 Print Recipe
Minced Meat Noodle
Equipment(affiliate link)