"As one of the eight major cuisines in China, Cantonese cuisine is exquisite in cooking, especially in achieving the requirements of beauty, freshness, tenderness and smoothness through techniques." "Baizhuo" is part of the techniques to highlight the delicacy of Cantonese cuisine. The word "baizhuo" is typically used in restaurant menus. "Zhuo" is a technique of Cantonese cooking, in which raw food is boiled in boiling water or soup, called "Zhou". Do not steal it literally it's very simple, but if you think it means to boil it in boiling water and get it out, you're wrong. It's just a misunderstanding of the literal meaning.
"As one of the eight major cuisines in China, Cantonese cuisine is particular about its cooking techniques. Most of the fresh ingredients require freshness, freshness, tenderness, smoothness, and superb heat control. It requires serving only when cooked, and the best balance between umami nutrition and safety is reached. If you are a foodie and use the word "light" to describe Cantonese cuisine, you are not up to par."
Today we make up with white burning cooking method used to do Scalded beef, and with refreshing yellow bean sprouts, delicious steamed fish soy sauce, fresh and delicious!"
How to make Scalded Beef
Step 1
Prepare the ingredients: 150g fat cow, 150g yellow bean sprouts, 1 slice green onion, 1 slice red pepper, 1 slice ginger, 1 slice coriander;
Step 2
Soak scallion, chilli and ginger in cold water, set aside;
Step 3
Heat a pot of boiling water, add a little salt, and quickly blanch yellow bean sprouts;
Step 4
Remove the bean sprouts and drains, and lay them on the bottom of the plate.
Step 5
Blanch the beef slices until done;
Step 6
Oil boiled pieces of fat beef on bean sprouts;
Step 7
Another pot, boil cooking oil, adds green Onions, ginger, pepper stir-fry fragrant;
Step 8
Add 3 tablespoons steamed fish soy sauce and mix well;
Step 9
Pour over beef slices and the scalded beef is done.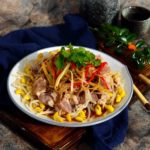 Print Recipe
Scalded Beef
Equipment(affiliate link)