This year I went to Yunnan to enjoy the beautiful scenery, taste the food, but also brought back a lot of Yunnan characteristics of the ingredients. Among them, Yunnan ham is one of them, there are some bovine liver bacteria, chicken bacteria and other edible bacteria. I have eaten chicken with ham and clear soup in Yunnan, feel good taste, come back always want to do, but have been very busy. Until now, seeing that the ham is almost eating up, I made this dish. Hey, the kitchen schedule is full, too.
How to Make Chicken with Ham and Clear Soup
Step 1
Prepare the dry macrolepiota albuminosa, which is also brought back by Yunnan.
Step 2
Wash several times with water, wash the sand inside, and then soak it until soft
Step 3
Remove soaked macrolepiota albuminosa as spare.
Step 4
Prepare two chicken legs and wash them.I should have used whole chickens, but my baby does n't like chickens. I 'm afraid I ca n't finish them. Clean ham.
Step 5
Cut over cooked ham.
Step 6
Prepar ingredients for cooking meat: Ginger, dried ginger, star anise, peppercorns, cinnamon,bay leaf, tangerine peel, angelica.
Step 7
Rinse both ham and chicken in cold water for future use.
Step 8
Boil the water and add the ham slices and chicken legs. Put the ingredients for the meat in the pot.Cook over high heat and then turn to cook over low heat for 30 minutes
Step 9
Put into macrolepiota albuminosa.
Step 10
Continue cooking on low heat for 10 minutes, add salt and pepper
Step 11
Cook over low heat for 10 to 15 minutes and that is finished.
Such delicious chicken with ham and clear soup is complete.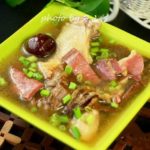 Print Recipe
Chicken with Ham and Clear Soup
Equipment(affiliate link)
Ingredients(affiliate link)
2

chicken legs

150

g

ham

100

g

macrolepiota albuminosa
auxiliary material
1

ginger

2

cinnamon

4

bay leaf

2

dry ginger

1

tangerine peel

1

angelica

water