Provence egg soup pills is a famous dish for the Northeast. Northeasters often use it for meals.How to make the Provence egg soup pills. Many people like to eat the Provence egg soup pills.But it does n't seem easy to succeed. Let's take a look today.
How to Make Provence Egg Soup Pills
Step 1
Add scallion, soy sauce, salt, cooking wine, pepper, egg whites, and Provence seasoning to the fresh meat stuffing and marinate.
Step 2
Add the right amount of water. Stir in one direction with chopsticks until the meat is thick.
Step 3
Add water to the pot and bring the water to a boil. Use a spoon to dig out a little meat and make meatballs into the pot. Cook over low heat and pour in egg liquid at the end.
Step 4
And that is finished.
Such delicious Provence egg soup pills is complete.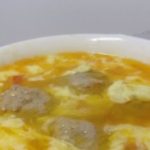 Print Recipe
Provence Egg Soup Pills
Equipment(affiliate link)