Hot Pot meal is a household name whenever a party is mentioned in China, more so as the new year festive season approaches. Actually, it is well known that considering taking the meal as a social event would still be considered accurate. Most people love the meal because of the ease of preparation and the numerous ideas that can be incorporated while preparing the dish to increase the variety. Apart from that, it goes without mentioning that it is also affordable, and you can have a happy time enjoying the meal with bottles of bear as you commemorate the good old days.
A key component that has significant contribution to the success of the dish is the hot pot dipping sauce. It is noteworthy that despite the fact that the dipping sauce is just a component in the dish, it is so broad, which warrants its own blog post. Therefore, this post is meant to discuss more on Chinese hot pot dipping sauce, as it had been promised in our previous blog post on the hot pot meal. Also if you do not have a clue of what we are talking about, search hot pot in our website, to bring you up to speed.
Remember, you can purchase a ready-made dipping sauces, which can be readily available in most markets in Asia. Also, if you are into experimenting, you can try working your way through a home-made recipe, to give your sauce a personal touch.
Ready Made Hot Pot Dipping Sauces
There are several ready-made sauces specially prepared to be used as dipping sauce. However, for simplicity, the article is going to focus on three since they are the ones which are reputable and have been tried tasted and approved by most cooks. These are sesame paste based sauce, shacha sauce for seafood and garlic sesame oil.
Sesame Paste Based Sauce
When it comes to Chinese hot pot meals, this is usually the default sauce. It is very common in Northern China, thought people from other regions equally consume it to a lesser degree. The sauce is made with toasted sesame paste, which is mixed with other ingredients such as fermented tofu, soy sauce, fermented garlic chives, sesame oil, green onions and chopped cilantro. Additionally, some water is added to dilute the sauce.
While most people consume the packaged sauce just as it is bought, some may prefer to add some cilantro and onions to the side to improve the taste.
Shacha Sauce for Seafood
Originally, the sauce was made to be consumed with seafoods. It is usually served in Taiwanese and Cantonese restaurants, and is made from a fish paste and a host of other spices, which gives it a rather sweet aftertaste that you can feel from afar.
Since the spice usually has a thick consistency, you can add some broth from the hot pot to make it thinner. However, most people who are used to eating at Taiwanese restaurants prefer the shacha sauce thick.
Garlic Sesame Oil
It is a less common sauce as compared to the other two. It is made from finely crushed or grated garlic with equal proportions of sesame oil. Those who have used it support the fact that it works better with spicy soup. Same as the other ready-made sauces, you can make it more appreciable by adding sesame oil, garlic and sesame sauce to give it a rich and intense flavor.
Easy to Make Hot Pot Dipping Sauce
It is aggregable that a lot of ingredients go to the preparation of Chinese hot pot meal. As a result, most people may find going for the ready-made hot pot dipping sauce. However, there is the second category of individuals, those who wish to make their own sauces at home though they may appreciate getting a short cut, or so to say. If you fall in that category, you can use the following recipes to get you started.
Chili and Garlic Based Sauce
The easiest and most convenient way of making a perfect dipping sauce, especially for a beginner is to work from a ready-made chili and garlic sauce, and top it off with ingredients such as soy and some sesame oil depending on how hot it is.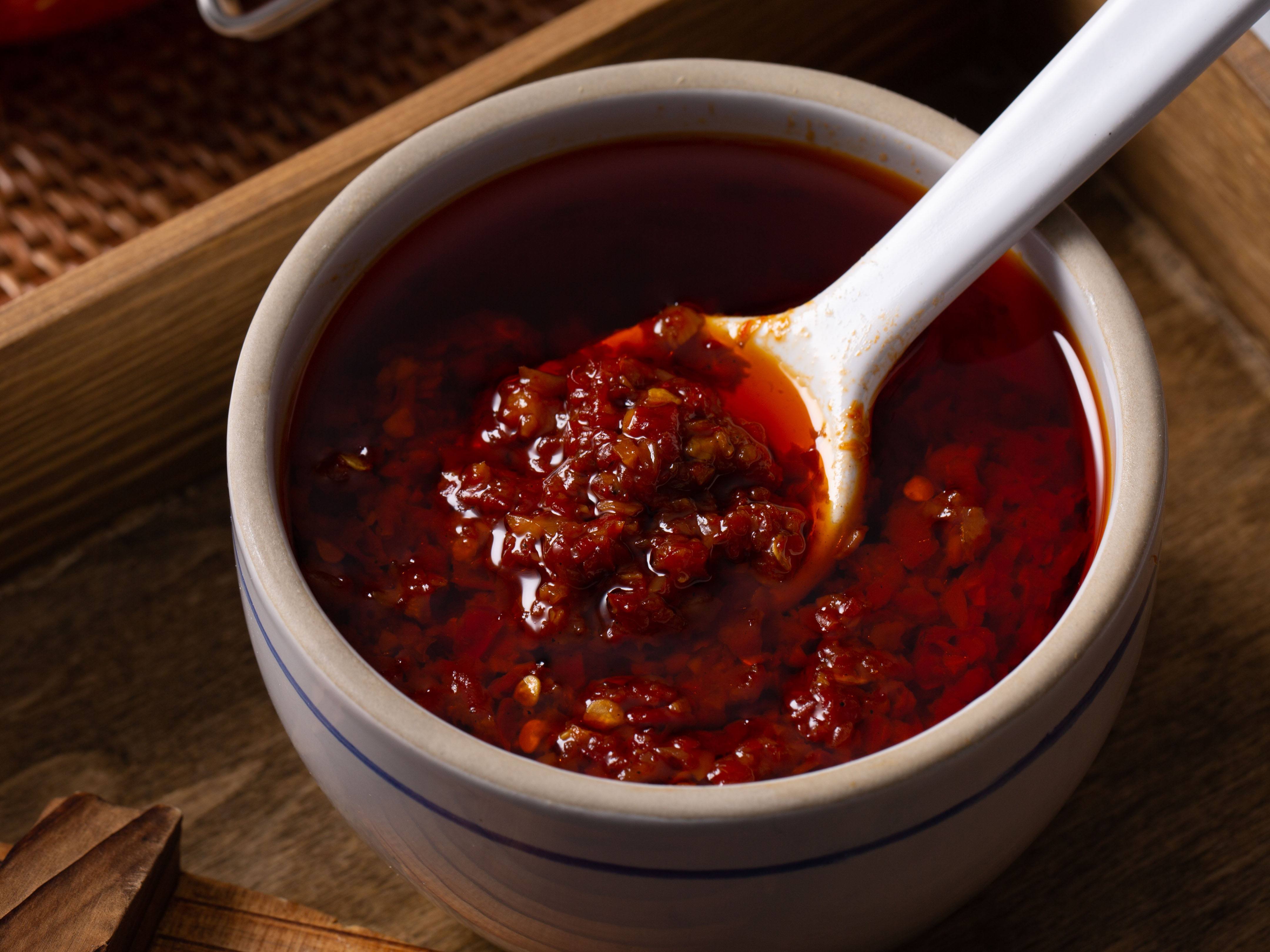 There are numerous brands of chili and garlic-based sauces, but some of the best chili you should go for are brands that are easy to modify with other ingredients, such as sauce.
Preparation
To a medium sized bowl of chili and garlic sesame oil, add finely ground garlic and chopped cilantro and stir to mix the content. Top it off with coriander, and vinegar, and if you like, some scallions. You must have noted that unlike other recipes, I have not specified any particular type of vinegar that you should use. It is not an oversight. You have an option of selecting your most preferred brand or type and add to taste. It is worth noting that substituting the lemon vinegar with lime juice is also an idea worth trying, since it creates an entirely new dimension of flavors to the recipes.
Laoganma Spicy Chili Oil
Laoganma is another chili sauce that can be converted into one of the best tasting hot pot dipping sauces with a few ingredients added to it. It would be surprising to know that there is anyone who is not aware of the sauce. If you are one of them, Google. You are surely going to be amazed.
The brand was created by one lady, known as Tao Huabi- she is the face you see in most of its packaging. A story is told of how the woman, out of poverty, was trying to come up with a way of preserving pepper. Little did she, or anyone for that matter, know that she was on the process of creating a chili sauce which was going to take the Chinese market by storm.
Apart form chili, other ingredients that make Laoganma sauce include Sichuan pepper corn, soybean oil and peanuts. However, that depends on the particular flavor you pick. Once you have the sauce, you can add some little soy sauce, preferably the dark variety and top it off with some sesame oil to give it a smooth texture, characteristic of most dipping sauces.