How to make garlic fried shark better. Many people like to eat garlic fried shark. But it doesn't seem to taste well. Let's take a look today.
How to Make Garlic Fried Shark
Step 1
The shark cut the fish-grained slug about 1cm thick along the fish's grain.Add salt, wine and egg newling for 10 minutes.Mix with the potato starch and pepper.
Step 2
Put oil in the pan and put it on the fire. When the oil is seven minutes hot, fry the shark slices in a frying pan until it floats and fishes out.
Step 3
Cut the garlic and chilli for spare.
Step 4
First stir-fry the ginger slices. Then put in the green garlic, chilli stir-fry. Add the rice wine, the shark, and pour in the high soup. Bring to the boil and add a little MSG.In a moment, the dish is finished.
Such delicious garlic fried shark is complete.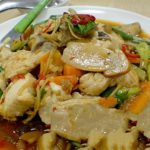 Print Recipe
Garlic Fried Shark
Equipment(affiliate link)