How to make chicken wrapped in paper
Step 1
Bone the chicken first
Step 2
Cut the well-boned chicken into strips about 2-3 cm long.
Step 3
Add all the seasonings and ingredients, stir well and marinate for about 15 minutes.
Step 4
Take a piece of baking paper and cut it to the right size. Depending on the length of your chicken strips, be sure to roll them up enough to seal them at both ends.
Step 5
Roll the marinated chicken strips with baking paper, like a candy bar, and seal the ends.
Step 6
Roll everything up and put it on a plate.
Step 7
Add oil to the pan and heat it up. Put the rolled chicken into the pan one by one. At the beginning, it may splash with oil, so be careful to be hot. Just keep the heat low.
Step 8
Turn chicken rolls to evenly heat.
Step 9
About 10 minutes or so, the baking paper bulges up, just like we do when we're cooking dumplings, and when they're almost done, the skin bulges up, and I fry them for a total of 15 minutes.
Step 10
Put it out of the pan, with the oil paper to absorb the excess oil.
Step 11
Well, serve it on a plate, and it's great with vegetables and fruit.
Step 12
How about tender and juicy meat, not oily and greasy? Isn't that easy? Do it!
Tips:
Because xiaoxia doesn't like Onions, so I didn't put them in. If you don't mind, you can put some Onions in it. The taste is definitely richer.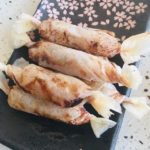 Print Recipe
chicken wrapped in paper
Equipment(affiliate link)