Tomato fried potato chips is famous dish for the Northeast. Northeasters often use it for meals.How to make the tomato fried potato chips. Many people like to eat the tomato fried potato chips.But it does n't seem easy to succeed. Let's take a look today.
How to Make Tomato Fried Potato Chips
Step 1
Wash the tomatoes and cut them into thick slices.
Step 2
Peel the potatoes and then wash and slice them. Rinse in cold water a few more times and drain.
Step 3
Cut the leeks into pieces.
Step 4
Put about half the oil into the pot. When the oil temperature rises, throw in a few leeks. Wait until a series of small bubbles raise the potato chips into pot.
Step 5
Fry on medium heat and stir from time to time with a leaky spoon to avoid adhesion.
Step 6
After the fried potatoes are cooked, continue to fry with a big fire for a while until the surface is darker.
Step 7
Fish out the fried potato chips and drain the oil.
Step 8
Leave a little oil in the pan and leave half the leeks when the oil is slightly hot. Stir the scent with a low heat and add the tomatoes.
Step 9
Fry until the red oil is fried.
Step 10
Add the potato chips, sugar, white vinegar, salt and stir-fry.
Step 11
Put in the MSG and stir-fry.
Step 12
Put the remaining leeks, stir-fry them and put them on a plate.
Such delicious tomato fried potato chips is complete.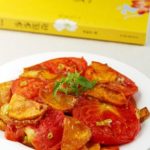 Print Recipe
Tomato Fried Potato Chips
Ingredients(affiliate link)
400

g

ketchup

300

g

potato tint (dehydrated)