Three delicacies chives pasta is inseparable from the people of Northeast China, and it was only a favorite dish in winter.Now you can eat it at any time. Therefore,how to make three delicacies chives pasta. Many people like to eat three delicacies chives pasta. But it does n't seem easy to succeed. Let's take a look today.
How to Make Three Delicacies Chives Pasta
Step 1
Combine flour and water into a dough, cover and leave it to ferment for a while.
Step 2
Wash the chives and chop it. Beat the eggs and stir well.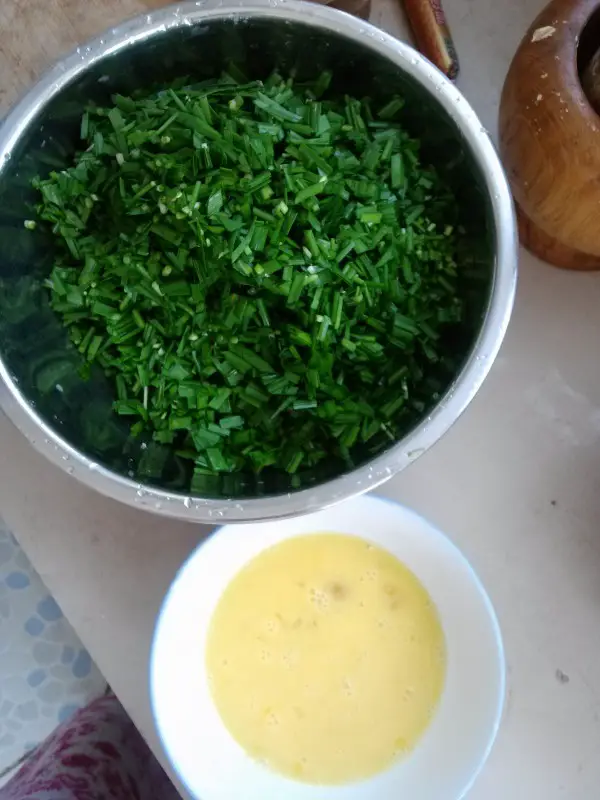 Step 3
Preheat the pan and pour the oil. Pour in the beaten eggs and cook, crushed.
Step 4
Put chives, eggs, minced ham sausage, shrimp skin, oyster sauce, salt, pepper, pepper powder, a spoonful of oil in the same pot, mix and stir to form a filling.
Step 5
Knead the fermented dough into a smooth dough.
Step 6
Divide the dough into small dough pieces of the same size.
Step 7
Press the small dough into thin crusts.
Step 8
Put filling in half of the crust.
Step 9
Fold the dough in half and seal it.
Step 10
After preheating the baking pan, brush a thin layer of oil on top. Put the prepared chives pasta in the pan and cover with an electric baking pan.Wait about six or seven minutes.
Step 11
Open the electric baking pan and see that the surface of the dough turn yellow.
Such delicious three delicacies chives pasta is complete.