Bean and potatoes stew with the bones is a famous dish for the Northeast. Northeasters often use it for meals.How to make the bean and potatoes stew with the bones. Many people like to eat the bean and potatoes stew with the bones.But it does n't seem easy to succeed. Let's take a look today.
How to Make Bean and Potatoes Stew with The Bones
Step 1
Cut the pig bones into sections and burn the blood in boiling water for backup.
Step 2
Cut the potatoes into pieces. Wash the beans for spare.
Step 3
Put the cooked bones in an electric pressure cooker, add the cooking wine, ginger flakes, star anise and a moderate amount of water, and simmer for about 10 minutes. Note that it won't take long, and then you'll continue to stew with the beans.
Step 4
Preheat the frying pan and pour in a small amount of oil. Wait until the oil temperature is raised and then add the potato cubes and fry until the color changes.
Step 5
Put the beans in the pan. Then stir-fry until the beans change color.
Step 6
Add the soy sauce, soybean sauce and stir-fry well.
Step 7
Pour the stewed bones into the pan and season with salt and sugar.
Step 8
Add the sweet potato powder when the fire is over. Cook over a low heat until the potatoes are soft. Potatoes and sweet potato powder only need one. There were a few fewer potatoes today, and I added some powder. When you get into a big bowl, you can go to the table.
Such delicious bean and potatoes stew with the bones is complete.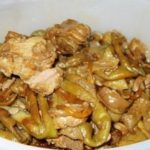 Print Recipe
Bean and Potatoes Stew with The Bones
Equipment(affiliate link)
Ingredients(affiliate link)
200

g

potato tint (dehydrated)

400

g

beans