The steamed chicken with taro is a homely dish.Chicken must be marinated for some time in advance to taste. Spread the chicken over the taro, which can absorb the soup of the chicken and taste good.
How To Make The Steamed Chicken with Taro
Step 1
Shredded ginger, minced garlic, soaked fermented soy bean, chopped it.
Step 2
Cut the chicken into even sized pieces.
Step 3
Use oyster sauce, sesame oil, olive oil, rice wine, chicken powder, cornmeal, salt, soy sauce, pepper, add minced garlic and the fermented soy bean, mix well, marinate in refrigerator for two hours.
Step 4
Taro peeled and cut into small pieces.
Step 5
Put it in the oil and fry until it changes color.
Step 6
Remove the drained oil for use.
Step 7
Spread the fried taro on the bottom of the plate.
Step 8
Put the marinated chicken on the taro, sprinkle the shredded ginger, boil the water in the pot, put the water in the pot and steam for 15 minutes.
Step 9
Steamed, sprinkle some scallion, heat a spoonful of hot oil and pour it on the scallion.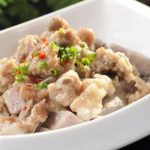 Print Recipe
The Steamed Chicken with Taro
Equipment(affiliate link)
Ingredients(affiliate link)
Accessories
oil

thin soy sauce

cornmeal