Today, I recommend a dish to those who have children, which is good for children's physical growth. That is cucumber  and stir-fried shrimp. Actually, cucumber is one of  common vegetables. It tastes tender and crisp. What's more, it is full of juice. Also, cucumber can be eaten raw or cooked.  Cucumber abound in the February. It is not expensive for every family. It can clear away heat and toxic materials, and strengthen the mind. To those children who do not like to eat vegetables, maybe you can try to do more cooking about cucumber. Therefore, cucumber is a supporting part of this dish. The leading role is shrimp. My children, since they can have supplementary food, have been eating shrimps for many years. Even when I was pregnant, my husband insisted cooking shrimps at least twice a week. Shrimp is flavorful and tender, which does not have fishy smell and bones. At the same time, it  contains a lot of calcium, magnesium, zinc, which is a great help for our body. That is why I recommend to all of you. Shrimp can strengthen the immunity of children and supplement calcium, which is better than having calcium tablet.
How to make cucumber  and stir-fried shrimp?
Step 1
Prepare cucumbers, shrimps, ginger and onions.
Step 2
Halve the back of shrimp to clean its thread. Then wash the shrimps clean and drain them. After that, Season the shrimps with Chinese cooking wine, ginger and pepper for 10 minutes. Cut the shallot and millet pepper into pieces.
Step 3
Peel  the cucumber and cut them into small pieces. Then season the cucumber with salt for about 5 minutes. After that, drain them, so the cucumber would be more tender and crisp.
Step 4
Heat the pot and put some oil in it. Then put shrimps.
Step 5
Stir-fry the shrimps until they change color. Then put them out of the pot.
Step 6
Put shallot and millet pepper in it and stir-fry it until it smell well.
Step 7
Add some cucumbers and  soy sauce.
Step 8
Put those shrimps.
Step 9
After stir-frying a while, add some pepper to remove the fishy smell.
Step 10
At last, stir-fry them for a few seconds and it is done.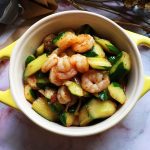 Print Recipe
Cucumber and stir-fried shrimp
Equipment(affiliate link)
Hope you enjoy your cucumber  and stir-fried shrimp.