Shrimp is rich in nutrition, and its meat is soft and easy to digest. It is an excellent food for people who are weak and need to be nursed after illness.Chinese name shrimp and water oat stir – Fried edamame dishes taste salty and fresh.So this shrimp and cane shoots stir-fry with edamame is quiet delicious and unique.
How To Make The Shrimp And Cane Shoots Stir – fry With Edamame Which Is Easy To Digest
Step 1
Rinse the shrimps and freeze them in the fridge for easy peeling.
Step 2
Peel the shrimps.
Step 3
I buy three cane shoots but I only use two of them this time.
Step 4
Strip off the edamame now
Step 5
Mix the shrimps with a little salt, cooking wine and starch. Set aside.
Step 6
Slice the cane shoots and mix with edamame
Step 7
Heat up a tablespoon of oil in a pan,
Step 8
Stir-fry green beans and sliced cane shoots
Step 9
Season with a little salt and simmer for a while
Step 10
Add the shrimps and stir fry.
Step 11
And add a little boiled water boil slightly
Step 12
Add a little light soy sauce and mix well. Then turn off the heat
Step 13
Pour the shrimp and cane shoots stir-fry with edamame out of the pan and into the plate.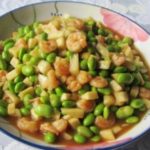 Print Recipe
Shrimp And Cane Shoots Stir - fry With Edamame Which Is Easy To Digest
Equipment(affiliate link)
Ingredients(affiliate link)
200

g

Edamame

150

g

cane shoots

200

g

shrimp