The pumpkin puree was smashed in a blender to make colorful dumplings. I didn't have time to make dumplings. It also counts as making the best use of things and not wasting them.Eggs as the main material of the pumpkin puree scrambled egg are one of the best sources of human nutrition.Eggs contain a lot of vitamins and minerals and high biological value of protein. For humans, eggs are the best source of protein, second only to breast milk. An egg contains as many calories as half an apple or half a cup of milk.
How To Make The Nutrient-rich Pumpkin Puree Scrambled Egg
Step 1
Two clay eggs
Step 2
Preparing a little pumpkin mud,and a little spring onion
Step 3
Beat the eggs well, add a little cooking wine and salt and beat well.
Step 4
Heat oil in pan, add pumpkin puree and fry
Step 5
Add a little salt to taste
Step 6
Pour in egg mixture and stir well. Just found that I forgot to add the scallion, cut in the scallion
Step 7
Out of the pan into a plate, cut the scallion egg a little bit of the paste in the pan.And we can enjoy the nutrient-rich pumpkin puree scrambled egg.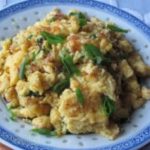 Print Recipe
The Nutrient-rich Pumpkin Puree Scrambled Egg
Ingredients(affiliate link)
100

g

Pumpkin puree

2

pcs

clay egg
 Accessories