Our family always has porridge once a week.Sometimes boiled white porridge, and we do not know what dish is good with it. My mother in law told me to cook the fried turnip with oil and shredded pork meat. My husband loves to eat it.If a meal can not finish and we can eat it in the second meal with rice.It is simple and easy to operate.
How To Make The Best Fried Turnip With Oil And Shredded Pork Meat
Step 1
Green Chinese onion and lean meat wash. Set aside.
Step 2
Shred the green chilli, chop the spring onion and set aside.
Step 3
One side turnip.Set aside
Step 4
Wash two chilies and set aside.
Step 5
Tear the turnip into pieces and soak them in water to clean and remove some salt.
Step 6
Cut the scallion and the green pepper into shreds. Set aside.
Step 7
Shred the lean meat and set aside.Put it in a bowl.
Step 8
Soak the turnip, cut into small pieces and set aside.
Step 9
Heat the wok, add the cooking oil and fry the scallion until fragrant.
Step 10
Add shredded pork meat and stir.
Step 11
Stir-fry until the meat is discolored. Add the soy sauce and Shisanxiang(one of the  traditional Chinese flavor) to taste.
Step 12
Add the turnip.
Step 13
Add the green pepper.
Step 14
Stir – fry evenly, add MSG flavor, out of the pot can be eaten.Let us try the fried turnip with oil and shredded pork meat with your friends and family now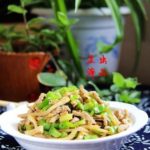 Print Recipe
The Best Fried Turnip With Oil And Shredded Pork Meat
Ingredients(affiliate link)
100

g

cabbage

350

g

pork meat

1

pcs

turnip
 Accessories 
oil

The soy sauce

Shisanxiang