When it comes to mutton, you will think of this enjoyable and fantastic sauteed sliced lamb with scallion , because mutton and scallion are a perfect match. Eating scallion in winter can warm your stomach, dispel cold, activate meridians, activate blood circulation and remove stasis, and scallion can also effectively remove mutton smell.
When frying, marinate the mutton with seasoning first, and then stir fry it to make it tender. Stir fry the green onion separately from the green onion core to make the green onion not wilt. The taste is crisp and tender, so stir fry it to make it delicious with rice.
How To Make The Enjoyable And Fantastic Sauteed Sliced Lamb with Scallion
Step 1
First of all,cut the lamb into thin slices.
Step 2
Cut the scallion white and the green onion core separately, and then cut the shredded ginger.
Step 3
Add some pepper to lamb (to remove smell and smell)
Step 4
Pour in some soy sauce.
Step 5
Add 5g corn starch
Step 6
Grasp the meat and marinate for 5 minutes.
Step 7
Heat the pot and put some oil into it. Stir in the scallion and stir in the fragrance.
Step 8
Stir fried ginger slices with hot oil.
Step 9
Stir fry the ginger immediately and stir fry the lamb slices.
Step 10
Stir fry until the color changes.
Step 11
Pour in a little cooking wine and stir well.
Step 12
Add scallion and stir fry evenly.
Step 13
Pour in the onion and stir fry.
Step 14
Stir fry with a little salt.And the enjoyable and fantastic sauteed sliced lamb with scallion is ready for you and your family.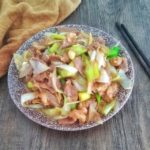 Print Recipe
The Enjoyable And Fantastic Sauteed Sliced Lamb with Scallion
Equipment(affiliate link)
Ingredients(affiliate link)
200

g

lamb (fat and thin)

1

Green Chinese onion