The beer fish is a famous local specialty of Yangshuo. The fish is spicy and delicious without any fishy smell of fish itself. The smell of beer and fish can make people have a big appetite. Yangshuo's beer fish is a big carp, which is fresh in the Lijiang River of Yangshuo. It is first cooked and fried with raw tea oil produced in the mountain area of Northern Guangxi, and then put into the top-grade beer produced in Guilin city and braised. It has a unique crisp, fresh and tender flavor.
In May 2002, Yangshuo beer fish won the gold medal in the Symposium of Qishan Cup National fan Zong food exchange competition.
In September 2018, it was rated as the top ten classic dishes of Guangxi Chinese cuisine
How To Make The Distinctive Beer Fish From Yangshuo County
Step 1
Prepare ingredients
Step 2
Cut green peppers, tomatoes, scallion, ginger and garlic.
Step 3
Cut a slanting knife on both sides of the fish body and sprinkle salt, cooking wine and ginger.
Step 4
Wipe evenly, marinate for 15 minutes, and then use absorbent paper to dry the surface water.
Step 5
Heat the oil and fry the fish until golden brown on both sides.
Step 6
Stir fry shallot, ginger, garlic and dried chilli in oil pot, add in bean curd and bean paste, stir well, then add in soy sauce and stir well.
Step 7
Add the fried fish, pour in the beer and simmer for 10 minutes.
Step 8
Open the lid and turn the fish over in ten minutes.
Step 9
When the time is up, put tomatoes and green peppers on both sides of the fish, close the lid and cook for another 2 minutes.
Step 10
Sprinkle with Scallion before the fish leaving the pot.And now,the beer fish is ready to eat.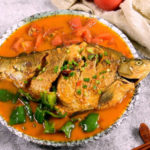 Print Recipe
The Distinctive Beer Fish From Yangshuo County
Ingredients(affiliate link)