In order to pursue the authentic and authentic taste, the paper wrapped chicken is made of Sanhuang chicken, which is raised by local farmers. The original paper-based cooking method locks the original taste of chicken and seasoning, so it can keep the chicken tender, smooth, mellow and not greasy, golden color and fragrant smell.
In September 2018, Wuzhou paper wrapped chicken was rated as the top ten classic dishes of Guangxi "Chinese cuisine".
Tin paper is the first choice for most restaurants to make "paper wrapped" dishes in recent years. While improving the tradition to make the dishes more beautiful, the method of Western food is used for reference. The food wrapped in tin paper can not only reduce the contraction of meat, but also do not have to be coated with grease outside the food.
The delicious and juicy chicken wrapped in tin foil is a special paper wrapped chicken dish.
How To Make The Delicious and Juicy Chicken Wrapped In Tin Foil
Step 1
Soak the chicken wing root in water for one hour, change the water in the middle, and fully soak the bleeding water
Drain water from chicken wing root, chop small pieces, rinse with water and drain
Step 2
Add cooking wine, salt, oil consumption, soy sauce, sugar, white pepper, shredded ginger and scallion to the chicken wing root, evenly grasp them by hand, put the plastic film on the back cover, and refrigerate for half an hour.
Step 3
Preheat the air fryer 200 degrees, lay tin paper in the frying basket, make the tin paper longer, and put the cured chicken on it.
Step 4
Cover with tinfoil and bake in oven for 20 minutes.
After 20 minutes you can try the delicious and juicy chicken wrapped in tin foil.It is very simple to make it at home.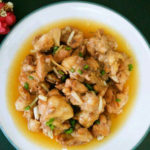 Print Recipe
The Delicious and Juicy Chicken Wrapped In Tin Foil
Equipment(affiliate link)