Catfish with black bean sauce is a famous dish with all the flavors, belonging to The Hubei cuisine.How does catfish with black bean sauce make the most delicious? This dish is easy to learn and tastes good. I hope my sharing can help more friends.
How to Make Catfish with Black Bean Sauce
Step 1
After the catfish was bought back from the vegetable market, the vendor had cleared the chamber and only needed to wash it after returning home.Next you need to cut the fish. First, split the lower part of the head of the fish head so that the fish head lies on the plateThen cut the fish along the main spine in the middle of the belly. The standard is to be able to lay the fish on a plate.This treatment is also for better appearance after steaming. Finally, cut the sides of the fish around every 2cm, so that the steamed fish will look good and easy to taste after steaming. It will be used in the next steps.
Step 2
Place the right amount of spring onion and ginger on a plate. Then place the sliced catfish on a plate, preferably on the plate
Step 3
Take half a bowl of black bean sauce. The amount depends on the weight of the individual taste (note: this dish does not need to add salt, so the taste basically relies on black bean sauce, and mouthful can also put some salt according to the amount of black bean sauce).Squeeze the black bean sauce into the slit of cutting fish. Crowded and as even as possible. Finally, try to fill the fish back with black bean sauce
Step 4
Next, use cooking wine (a small amount of white wine is also available, mainly to remove the fishy smell) and two spoonfuls of oil to reconcile.Sprinkle on the black bean sauce on the back of the fish.Finally, sprinkle a little sugar, pepper, monosodium glutamate, and sprinkle the appropriate amount of cooking oil on the fish.
Step 5
Put it in the pot and start steaming. Wait until the lid is removed and steam for another 10-15 minutes. Sprinkle some cilantro and shallots on the pan and order some sesame oil
Such delicious catfish with black bean sauce is complete.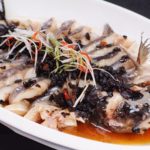 Print Recipe
Catfish with Black Bean Sauce
Equipment(affiliate link)
Ingredients(affiliate link)
condiment
shallot

10

peppercorn

3

tbsp

oyster sauce

black bean sause

2

coriander