Potato silk fried celery is a famous dish for the Northeast. Northeasters often use it for meals.How to make the potato silk fried celery. Many people like to eat the potato silk fried celery.But it does n't seem easy to succeed. Let's take a look today.
How to Make Potato Silk Fried Celery
Step 1
Peel the potatoes and wash them for backup.
Step 2
Wash the celery and cut the silk to make a spare.
Step 3
Prepare the scallion to spare.
Step 4
Add oil to the pan. Wait for the oil temperature to rise.
Step 5
Then add the potato silk and the pepper powder.
Step 6
Wait until the potato silk is discolored and then add the celery silk and stir-fry.
Step 7
Add the salt and fry.And that is finished.
Such delicious potato silk fried celery is complete.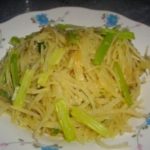 Print Recipe
Potato Silk Fried Celery
Equipment(affiliate link)