Oyster sauce pork ribs is a famous dish for the Northeast. Northeasters often use it for meals.How to make the oyster sauce pork ribs. Many people like to eat the spicy shrimp.But it does n't seem easy to succeed. Let's take a look today.
How to Make Oyster Sauce Pork Ribs
Step 1
Wash the pork ribs and soak in cold water to remove blood and put it in the pressure cooker.
Step 2
Put the right amount of oil, sugar, soy sauce, wine, MSG and ginger flakes. Without water, cover the pot directly and boil it until it is gassed and turn off the fire for 5 minutes.
Step 3
Open the pressure cooker to see how ripe the ribs are, and put the right amount of salt.
Step 4
Put the prepared potatoes in the pan and cover. Turn off the fire 5 minutes after boiling with a fire. That's finished. It's better to put a little coriander when you put on the table!
Such delicious oyster sauce pork ribs is complete.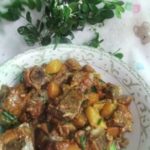 Print Recipe
Oyster Sauce Pork Ribs
Equipment(affiliate link)
Ingredients(affiliate link)
200

g

pork ribs

100

g

potato tint (dehydrated)