Braised pork balls with cabbage is a famous dish for the Northeast. Northeasters often use it for meals.How to make the braised pork balls with cabbage. Many people like to eat the braised pork balls with cabbage.But it does n't seem easy to succeed. Let's take a look today.
How to Make Braised Pork Balls with Cabbage
Step 1
Wash the cabbage and drain the water.
Step 2
Cut the pig's hind leg meat into a meat filling with a knife, and put the right amount of scallion and ginger. together.
Step 3
Add salt, MSG, cooking wine, thirteen-spices and raw powder to the prepared meat. Stir evenly in
one direction.
Step 4
Add some water when stirring, and then put the oyster saucel and pepper.
Step 5
Finally, put an egg and sesame oil.
Step 6
It's best to stir more and mix the meat well.
Step 7
Heat the oil over a medium heat and put the meat stuffing into a ball in the pan. And then fry.
Step 8
Put the scallion in the pan and fry. Boil with soy sauce and a moderate amount of water.
Step 9
Put the fried balls and the washed cabbage in the pan.
Step 10
Add a little salt and simmer for about two minutes.
Step 11
Finally, add a little MSG and you can put on the plate.
Such delicious braised pork balls with cabbage is complete.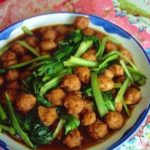 Print Recipe
Braised Pork Balls with Cabbage
Equipment(affiliate link)
Ingredients(affiliate link)
condiment
Salt, MSG, shallots, ginger, oil, blend oil, pepper, 13 scents, raw powder, sesame oil, egg

blend oil

raw powder

1

egg