Northeast China stew is a famous dish for the Northeast. Northeasters often use it for meals.How to make the Northeast China stew. Many people like to eat the Northeast China stew.But it does n't seem easy to succeed. Let's take a look today.
How to Make Northeast China Stew
Step 1
The ribs are cooked in hot water, then fished out and washed for a spare.
Step 2
Cut the carrots into pieces, the beans into small sections, and the corn into pieces to make a backup.
Step 3
Cut the onions into segments and the ginger into slices. Prepare peppers, star anise, and doubanjiang for a spare.
Step 4
Pour the oil into the pan. After the oil temperature increases, put the onion, ginger, pepper, star anise and then stir-fry. Put in the ribs and stir-fry until the oil is oily.
Step 5
Dilute the doubangjiang with water, and then pour into the pan and stir-fry evenly.
Step 6
Add a moderate amount of high soup (or water) to soak the ribs. Boil over a large fire and cook on a small heat for forty minutes.
Step 7
Put corn, beans, and carrots in a pot, boil over high heat and then cook over low heat and simmer for 15 minutes.
Step 8
Stir green peppers and salt (be sure to taste it when salt is added, as the sauce itself is salty).Stir-fry until cooked and that is ok.
Such delicious Northeast China stew is complete.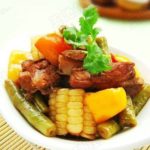 Print Recipe
Northeast China Stew
Equipment(affiliate link)
Ingredients(affiliate link)