How to make jiang mother duck
Step 1
Before making jiang mother duck,we should prepare the ingredients.
Step 2
Cut the duck meat into pieces and wash them.
Step 3
Put ginger slices in the pot, add duck meat after boiling water, and then remove the ginger slices of duck meat for later use.
Step 4
Add ginger and duck, stir-fry until the duck water is dry
Step 5
Add cinnamon anise.
Step 6
Pour in the rice wine and then pour in the water. The water will not pass the duck.
Step 7
Let it simmer until almost the sauce has collected.The jiang mother duck is done.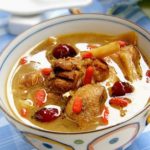 Print Recipe
jiang mother duck
Equipment(affiliate link)
Ingredients(affiliate link)
Supplementary material