How to make wire drawing taro
Step 1
Before making wire drawing taro,we should wash and peel the taro, cut into hobs or water chestnuts, and set aside for frying.
Step  2
Remove impurities from sesame seeds and set aside.
Step 3
Fry the spoon on the fire, and pour 750 grams of oil into it after cooking. When the oil is about 60% cooked, put the taro pieces into it.
Step 4
Will be poured out of the oil, remaining oil 15 grams, will be 200 grams of sugar into the pot, kept stirring, so that the sugar is heated uniform melting, but the fire should not be too large, such as sugar liquid small tip size bubble, quickly Fried taro into the taro block, sprinkle sesame seeds, after flipping evenly, plate speed table. And the wire drawing taro is done.
Cooking techniques
1, Fried taro when the outside crisp inside tender, taro to all mature, if you feel a Fried is not good, then Fried again.
2, for the novice, oil boil sugar is easier to succeed, the oil does not need too much bottom oil can, because oil boil sugar can see color act, sugar becomes gold red boil, boil with water is much more complicated, the heat is more difficult to grasp.
3, wire must use soft sugar, and the amount of sugar to be appropriate, less pull out silk, more easy to form a piece, about a jin of raw materials, 60 to 70 grams of sugar is appropriate.
4, to add a little vinegar, acetic acid can make the sugar better drop out of the silk, but not easy to return to the sand.
5, the plate must be smeared with oil, because even if the oil, is inevitably sticky plate, but not bad.
6, eat while it's hot, remember to dip in some cold water, be careful outside cold inside scalded mouth.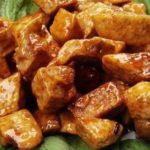 Print Recipe
Wire drawing taro
Equipment(affiliate link)