Fried blood duck is a famous dish with all the flavors, belonging to the Jiangxi cuisine.How does fried blood duck make the most delicious? This dish is easy to learn and tastes good. I hope my sharing can help more friends.
How to Make Fried Blood Duck
Step 1
Take a clean bowl.Load 15 grams of cooking wine first.Kill the duck from under the neck, let the duck blood flow into the bowl, and stir well with chopsticks;
Step 2
Dip the duck in boiling water. Then remove the duck feathers, cut open its abdomen, and dig out the internal organs. Cut into 1.8 cm squares with a knife. Also use a bowl for spares (head, feet, wings, internal organs, etc. are not used);
Step 3
Wash the ginger and cut into 1.2 cm square slices;
Step 4
Remove the roots from the shallots, wash them, and take the shallots and cut them into 1.2cm pieces.
Step 5
Cut the dried red pepper diagonally into 0.9 cm long strips;
Step 6
Cut the garlic cloves in half and place them in a clean bowl together;
Step 7
Heat the wok over a hot fire and pour in peanut oil. When it is 70% hot, pour the ginger, shallots, garlic, and dried red pepper.Then stir-fry the scent and pour in duck pieces and fry together;
Step 8
Stir until it shrinks and turns white, then add 20 grams of cooking wine, soy sauce, salt, and fry again;
Step 9
Then add 200 ml of fresh soup and heat the iron pan for 10 minutes;
Step 10
When the soup is about 1/10 left, the duck blood is drenched on the duck pieces. Stir-fry while stirring to make the duck pieces stick to the duck blood, add pepper, monosodium glutamate, and stir-fry after the dripping. Then put on a plate and drizzle with sesame oil.
Such delicious fried blood duck is complete.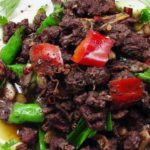 Print Recipe
Fried Blood Duck
Equipment(affiliate link)
Ingredients(affiliate link)