The nutritional value of duck meat is very high, and its protein content is much higher than that of livestock meat. The content of fat and carbohydrate in duck meat is moderate, especially the fat is evenly distributed in the whole body.
The traditional braised duck with chestnut is especially suitable for people who are worried that too much saturated fatty acid will cause atherosclerosis.
How To Make The Traditional Braised Duck with Chestnut
Step 1
Duck meat to be cleaned, add oil, salt ginger slightly stained for a moment;
Step 2
Put some oil in the pot,and add ginger, garlic, duck fried.Because the duck's surface is a little yellow, the water will be dry quickly;
Step 3
Add some soy sauce and stir fry evenly;
Step 4
Add chestnuts, vanilla leaves and star anise;
Step 5
Add in thin soy sauce, sugar and some water, boil over high heat, turn to medium or low heat and simmer for about 20 minutes, until the water is a little dry;
Step 6
Try to taste. If it's not salty, add a little salt. It's usually enough! Sprinkle some coriander and serve!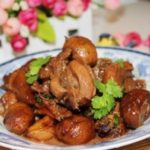 Print Recipe
The Traditional Braised Duck with Chestnut
Equipment(affiliate link)
Ingredients(affiliate link)
Accessories
oil

thin soy sauce

thick soy sauce

myrcia

coriander