The stewed pork tendon with beautiful millettia root and peanuts is a common soup in Guangdong province.
How To Make The Stewed Pork Tendon with Beautiful Millettia Root and Peanuts
Step 1
Prepare the beautiful millettia root ,pork tendon, fan bone, red date, meidou, peanut, tangerine peel, ginger slice.
Step 2
Soak cowpea and peanuts in advance, or wash them directly and cook them in pot. It's easier to boil the sponge after soaking. Remove the core of red jujube,
Step 3
Use a small amount of wine to wash the pork tendon.Boil the water in the pot and blanch the pork tendon.The soup is not so greasy.
Step 4
Scrape off the skin of the beautiful millettia root, wash and cut into thin slices, blanch and wash pork tendon, and slice ginger.
Step 5
Put all the ingredients in the soup pot and put enough water about 2500 ml.
Step 6
Boil in high heat for 10 minutes,then change to low heat for 2 hours.
Step 7
After 2 hours, we can put some salt to taste properly. We are used to not putting salt, which is more sweet.
Step 8
The soup is especially suitable for physical labor to recover physical strength and strengthen lumbar muscles.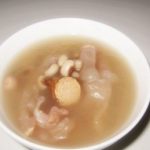 Print Recipe
The Stewed Pork Tendon with Beautiful Millettia Root and Peanuts
Equipment(affiliate link)