The pineapple moon cake with milk flavor is a delicious food, with egg yolk, milk powder as raw materials, corn oil, conversion syrup as seasoning. The food is mainly made by baking.
Tips:
The alkaline water is mixed with edible alkali noodles and water in the proportion of 1:3.
Don't brush eggs on the surface too much. Just brush them on a layer. I'm not used to using silica gel brush. This one is still a little too much.
The baked moon cakes are more delicious after oil return.
How To Make The Lovely Pineapple Moon Cake with Milk Flavor
Step 1
Prepare materials to make the dough.
Step 2
Pour the conversion syrup into a large bowl, and add the alkaline water.
Step 3
Stir to make it mixed evenly.
Step 4
Pour in corn oil.
Step 5
Stir to make it mixed evenly again.
Step 6
Pour in flour and milk powder.
Step 7
Make dough with moderate hardness.
Step 8
Leave it for an hour.
Step 9
Preparation of filling and the egg liquid for surface's decoration.
Step 10
Divide the pineapple stuffing into balls(each ball should be about 24g).
Step 11
A small dose of dough divided into 6G / 1.
Step 12
Take a piece of dough and press it flat.
Step 13
Add pineapple stuffing.
Step 14
Push the crust up to cover the filling.
Step 15
Close up slowly and make it round.
Step 16
Put a small amount of flour in the moon cake mold, shake it evenly, and then pour it out.
Step 17
Put in the wrapped moon cake embryo.
Step 18
Buckle it on the table, press down the handle and press it according to the actual situation.
Step 19
Gently push out,
Step 20
Put the prepared moon cakes into the baking tray, spray water on the surface, put them into the preheated 180 degree oven, middle layer, and bake for about 5 minutes.
Step 21
Remove them out,and brush the surface with the egg liquid, put it back in the oven, and bake for 15-20 minutes.
Step 22
Until the surface is golden.The pineapple moon cake with milk flavor is done.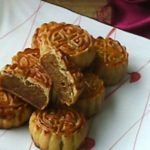 Print Recipe
The Lovely Pineapple Moon Cake with Milk Flavor
Equipment(affiliate link)
Ingredients(affiliate link)