The glutinous rice porridge with yam is a kind of delicious food, the main materials are yam, glutinous rice and so on. Chinese yam has the functions of strengthening muscles, stopping diarrhea, curing thirst, benefiting lung and strengthening essence, nourishing and strengthening. It can be used to treat diabetes, dyspepsia, anorexia, night sweating, fatigue cough and other diseases.
How To Make The Glutinous Rice Porridge with Yam
Step 1
Soak glutinous rice in water for 20 minutes.
Step 2
Diced yam, and washed
Step 3
Put the glutinous rice into the pot and boil it with water
Step 4
Put yams in when the glutinous rice rises
Step 5
Cook until the yams are ripe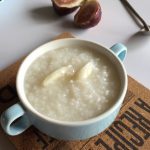 Print Recipe
The Glutinous Rice Porridge with Yam
Equipment(affiliate link)
Ingredients(affiliate link)