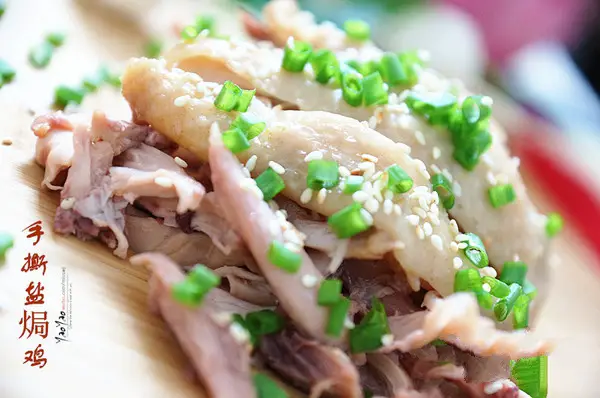 Of all the meat, I like chicken and beef best. So, I'm always doing different things with chicken. For me, a carnivore lover, how to eat and how to cook is the most important.
So it's easy to make, and it's perfect for people who don't have time or who haven't been in the kitchen much.This dish is guaranteed to be on the table once you learn it. Because it has to look good and taste good. If you don't believe me, you can buy a chicken leg and follow me to cook the salt baked hand-pulled chicken.
How To Make The Special Salt Baked Hand-pulled Chicken
Step 1
Get your materials ready
Step 2
Peel ginger and slice. Slice chives.
Step 3
Clean the chicken legs,and drain with kitchen towel.
Step 4
Sprinkle chicken powder on the chicken legs, then marinate for half an hour.
Step 5
Brush a thin layer of oil on the cooker.
Step 6
Spread with ginger slices.
Step 7
Put the marinated chicken leg in the rice cooker.Sprinkle with spring onion and cover the pot.Press the cook button.When it jumped to the insulation key,open the lid of the rice cooker and let the steam release for about two minutes. Then close the lid of the rice cooker and press the cooking button. Wait until it jumps to the insulation key.Poke the chicken leg with chopsticks. If it can be easily passed through, it will be proved that the chicken leg is cooked. On the contrary, cook the chicken repeatedly until it is well-cooked
Step 8
When the chicken gets cold,you can peel them off and arrange them on a plate, then sprinkle sesame seeds and scallions on top and eat the salt baked hand-pulled chicken.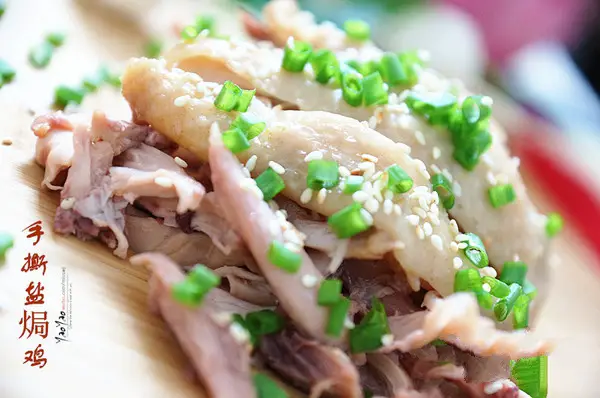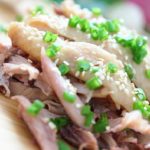 Print Recipe
The Special Salt Baked Hand-pulled Chicken
Equipment(affiliate link)
Ingredients(affiliate link)