The stewed black chicken soup with coconut is a kind of food made of black chicken, coconut and so on.
How To Make The Stewed Black Chicken Soup with Coconut
Step 1
Wash the black chicken and cut into pieces.
Step 2
Add water to the pot and blanch the black chicken and pork.
Step 3
Blanch the black chicken and lean meat for use.
Step 4
Remove the coconut from the shell.
Step 5
Cut large pieces of shelled coconut meat.
Step 6
Put the chicken, lean meat, coconut and tremella into the pot and boil with water. Simmer for 1 hour.
Step 7
The stewed soup is seasoned with salt.
Step 8
The good coconut stewed chicken soup is ready.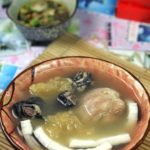 Print Recipe
The Stewed Black Chicken Soup with Coconut
Equipment(affiliate link)