The shredded pork knuckle in jelly is a kind of food made from hind leg hoof arm and so on, with ordinary difficulty.
How To Make The Shredded Pork Knuckle in Jelly
Step 1
Wash the hooves and arms, remove the bones, roll them into a circle, and tie them with white thread.
Step 2
Drain the water in the pot, add onion, ginger and cooking wine to boil, put in the hoof and boil for 50 minutes, then leave the fire, soak until it is slightly cool, take out, remove the white line, slice and drain into the plate.
Step 3
Mix the mashed garlic, sesame oil and vinegar, and pour them on the meat slices.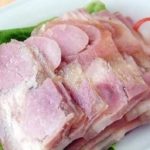 Print Recipe
The Shredded Pork Knuckle in Jelly
Equipment(affiliate link)
Ingredients(affiliate link)