The thousand layer meat pie is a pasta snack. It has a unique seasoning formula made of more than ten spices, with crystal clear surface and tender meat filling color. It is popular among consumers for its golden color, distinct layers, tender outside and inside, crispy and tasty, oil-free and fragrant.
What's more, it's very ornamental. It's really thin as paper, especially when it's going to be baked, it's delicious and delicious.
How To Make The Delicious And Palatable  Thousand Layer Meat Pies
Step 1
Prepare the main ingredients. I used bread flour, because I bought too much recently, so I need to use it.
Step 2
Let's make the dough first. It's easier to make this kind of meat cake with cold water. The dough is also OK, it will be more soft and delicious, but I still like the crispy one, which tastes delicious. The dough materials are mixed together to form a smooth dough, which can be kneaded with the help of a chef's machine, a baker's machine or a husband's machine to save more energy. The dough is divided into three parts, covered with wet and soft gauze for half an hour.
Step 3
Make stuffing when you are waiting for the leaven dough. Deal with the material first. Cut up the scallion and ginger, and make sure that you have more scallion to eat,
Step 4
Chinese cabbage is the best choice for tender leaves in winter. It's cheap and nutritious.
Step 5
It doesn't need to be too much. Leeks are used for seasoning. I like to add some leeks to the meat filling. It's delicious
Step 6
Minced meat with onion and ginger.
Step 7
Add the seasoned soy sauce powder and salt, stir well and taste well. In this step, add some water, and the meat filling will be more tender and delicious.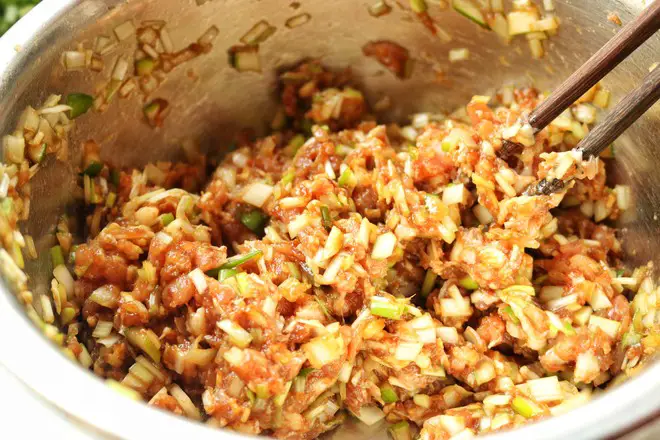 Step 8
Add cabbage and leek.
Step 9
Stir well and the meat filling will be ready.
Step 10
This kind of multi-layer meat cake is very suitable for novices and people with little cooking experience. The finished product will not be very beautiful, but the taste is very good. It doesn't need to be too thin or too round to roll out a piece of dough. Rolling out a piece of dough is OK. Is it a good news for beginners. Roll out the patch and cut it in two places as shown in the figure.
Step 11
Lay a layer of meat stuffing just made, leave some blank on the edge of the cutting part, to avoid the meat stuffing will be squeezed out after it will be folded up.
Step 12
The rightmost part starts from the cutting part, folds up and pinches the edge
Step 13
Fold it to the left again, and then it's the second cutting position. Also squeeze the edge part, and if it's not too overlapped, pull some patches.
Step 14
Then fold it down, then left, finally fold the last piece up, squeeze the edge, and it will become an irregular big pancake.
Step 15
Roll out the pancake again, and the embryo of the thousand layer meat cake will be ready.
Step 16
Brush a thin layer of oil on the electric baking pan and put in the cake embryo.
Step 17
Heating mode of upper and lower plate, cover and solder for 10 minutes, till the surface is golden. If you don't have an electric pancake pan, use a saucepan and cover it with a small heat for 12-15 minutes. Be careful not to burn it. The baking time should also be adjusted flexibly according to the thickness of the cake.
Step 18
The baked cake can be cut into pieces for consumption.Would you like to try the delicious and palatable thousand layer meat pies?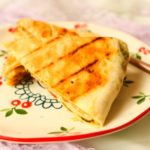 Print Recipe
the delicious and palatable thousand layer meat pies
Equipment(affiliate link)
Ingredients(affiliate link)
520

g

flour

300

g

water

200

g

Pork stuffing
accessories
Chinese cabbage

Green Chinese onion

Old soy sauce